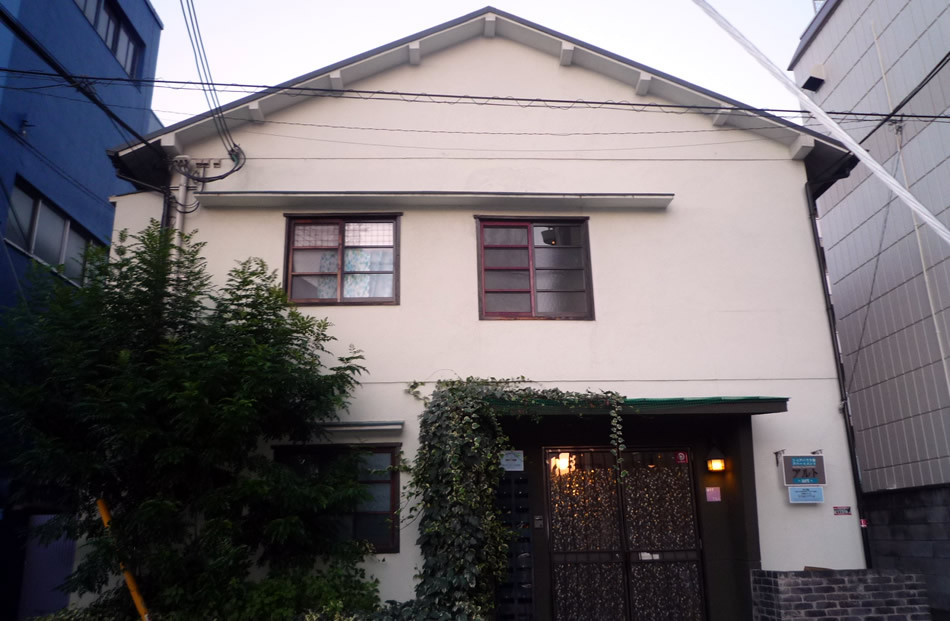 The gallery share house "Art" is a forty year old wooden apartment building which was completely renovated and opened in November, 2010.
"Art" is close to the Kintetsu Fuse station and takes only 20 minutes to travel from Fuse to Namba. The concept of this share house is to create an artistic space. The owner designed the internal space of the apartments with the idea of "Retrospective Japanese and European style" and harbors a very cozy atmosphere. 
All rooms are fully furnished with a bed, table, shelf, refrigerator, kitchen utilities and complimentary internet.
We also have a specious living and dining area, public kitchen and two computers for residents' use. Short stays (minimum of one month) are also welcome. *A deposit of JPY30000 is required to start residency.
We hold monthly "Art meetings" 
to exchange ideas with each other and to see if everything is working correctly in the building, or if anything needs to be added/upgraded. We are proud to reflect the residents' opinions about the Art building as this continuously improves Art into a better living space.
The monthly meetings are very relaxed and casual. We eat dinner, drink, and have a good time together!  
We recently added a new designated smoking area in February of 2014. It started when the owner integrated the resident's need for a smoking space at the meeting. The residents who smoke can now have a comfortable space and they are happy with the upgrade. The owner has a direct hand in operating the share house and this is the reason residents feel safe and comfortable. 
Hello, everyone!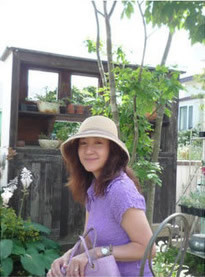 My name is Toshimi Inoue and I am the owner of "Art". 
We have successfully operated this share house for three years.
We have 18 rooms which is about a middle sized share house in Osaka. We are also proud to announce that we are recognized as one of the most popular share houses in Osaka as well!
I hold the monthly meetings as well as the welcome party for new residents. Residents are also welcome to hold their own parties and events as well. We like to enjoy and share good times as a community, but we also respect private quiet time and space to allow for creative thinking.
I am doing my best to operate this share house by offering a clean space and being sensitive to the needs of the residents.
Residence cost
Monthly Rent: JPY48000 – JPY52000 (including utility JPY9000)
Deposit: JPY 30000
Bicycle parking: JPY2000 / month
Please take a look at the floor plan to check the monthly rent of each room.
JPY39000 / G
JPY41000 / A, B, C, D, E, P, Q, R, S
JPY42000 / I, J, K, L, M, N
JPY43000 / H, O
Requirements:
"Art" is a co-ed share house. People from abroad are also welcome!
You will need to submit a copy of your ID (passport, visa, and alien registration) to rent a room.
Short Stay/less than 1 year
It is possible to stay for a short period which is considered to be less than one year. In this case, we charge an additional JPY3000 monthly for rent.

Rooms
There are two sizes. One is a 9 tatami mat room (A,B,C,D,E,H,I, J,K,L,M,N,O) and the other is 7.5 tatami mat room (G,P,Q,R,S). 

Facilities in 5 minutes walking distance
Supermarket, One coin shop, convenience store, bank, post office

Facilities in 10 minutes walking distance
Movie Theater, sports gym

About the operation of share house
-The owner will check the share house twice a week.
-Cleaning: Professionally cleaning the share house facility once a week.
-Rules:
○Friends of the resident can visit him or her anytime but if he or she will stay over a night, friends, please let us know beforehand. (We charge JPY1000 as utility per night) 
○The residents can smoke only in the smoking area.
○The residents are responsible for taking out their own garbage. The garbage in the public space should be taken out the person on duty.
Event:
Monthly "Art" meeting and welcome party. Irregularly, we have various kinds of parties and city tour.

Equipment
Arrangements for each room
Each room has a bed, table, shelf, refrigerator, kitchen utilities, air conditioner, shoes shelf, Room light and complimentary internet.

Public Space
Living & Dining area, Kitchen, Powder room, Laundry room, Shower rooms, Toilet, a place for drying laundry, verandah and balcony, bicycle parking area, garbage area, and smoking space

Equipment for public area
2 Computers, 1 Large sized TV, 3 shower booths, 4 Men's toilets, 4 women's toilets, 3 washstands, 2 washers with dryer, 1dryer, 2gas stoves, 2 microwave ovens, 4 rice cookers, 2 toaster oven, 2 vacuum cleaners, 2 irons, 2 iron boards, 1 refrigerator, 1 freezer, cooking utensils, tableware, mail box, and shoes shelves.

Access
Address: 4-11Choei-ji Higashi-Osaka 577-0055 Osaka
The closest station:  7 minutes' walk from Kintetsu Line, Fuse station
4 minutes' walk from Kintetsu Line, Eiwa station
4 minutes' walk from JR Line, Kwachi Eiwa station
Minutes from Fuse to the central stations in Osaka
7 minutes to Uehonmachi
10 minutes to Namba
15 minutes to Tennoji
20 minutes to Osaka
Facilities in our neighborhood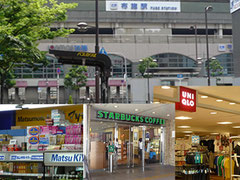 Around the Fuse station
Drug store / Matsumoto kiyoshi, Starbucks, Uniquro, Macdonald, Convenience stores
Governmental and administrative service is in the 5th floor of Vel Noru Fuse.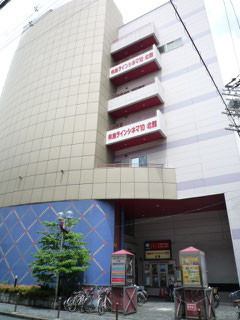 Fuse Line Cinema10 North / Movie theaters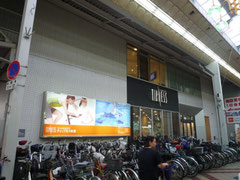 Tipness Fuse / Sports Gym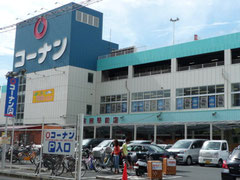 Home center Konan / Hardware, do-it yourself, home and garden store
Inquiry
Inquiry: Please e-mail or call us!
Please write : 
Age, 
Gender, 
Nationality,
The period you want to stay,
The dates you want to take a look at "Art"(please let us know your three available dates)
Questions and messages
Telephone Number for inquiry : 06-6783-2868(Inoue)